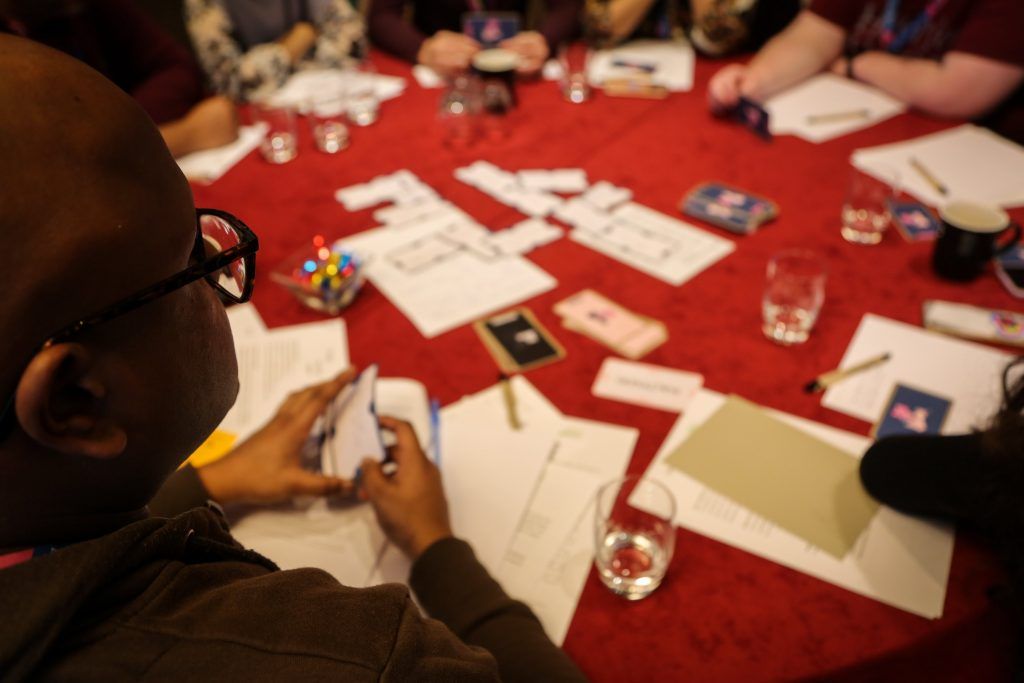 How can reflecting on the future help us change the present? This is the question Kieran Cutting, PhD student on the EPSRC funded Digital Civics CDT at Open Lab has been looking at working with both young people, youth workers, civic leaders and more.  
It's Our Future
In 2019 Open Lab was asked by children's charity Barnardo's to design a platform for young people to envision what they want from the future, and what they could do to get there.
Kieran Cutting led the project alongside Open Lab CDT students Sean Peacocok, Mohan Biswas, Sarah Armouch, Adam Parnaby and Daniel Lambton-Howard they ran a workshop in Westminster that brought 85 young people, youth workers and civic leaders from every corner of the UK to design the future - on their terms.
They designed and ran a card game during the workshop to invite bold new ideas for the future. Afterwards, the responses were used to create a youth manifesto that was issued during the 2019 UK General Election.
The It's Our Future launch showed that young people are engaged in the issues that affect their lives from climate change to their experience of using services such as Child and Adolescent Mental Health services (CAMHS).
FutureWeaving
To follow on from It's Our Future, Kieran wanted to see what would happen if the project was run over a longer period of time with fewer people.  
The original It's Our Future card game was replaced with Fractured Signals - a method which mixed speculative design with personal reflection and could be used remotely, by an individual and over a number of days.  
The deployment was done with a group of people who work with care-experienced young people including mental health workers, youth workers and the policy director of a charity.  
Fractured Signals used artefacts consisting of a pack of cards with various symbols or imagery on them known as Dreamthreads, a Divining Board, and an automated phone-service.  
The future of FutureWeavers
Kieran hopes to continue using the methods with other groups. Some people from the first deployment are continuing to use the cards to reflect on a regular basis.  
One of them is considering setting up their own charity for care-experienced young people, they said the Future Weaving had helped them to see that this idea was more than just a pipedream as it kept coming back to them during the exercise.  
The people involved took on the role of FutureWeavers, people chosen to reflect on our current timeline and imagine a possible new future.  
"We must find ways to open our hearts to the possibilities of worlds that are completely unlike our own; of futures we have never imagined." - from the Fractured Signals guidebook.  
People would call the phone service which would read them a script and they would use the cards to reflect on various questions throughout the call. The service recorded all of their answers creating the dataset for the research.  
The cards were specifically vague therefore people could come up with their own interpretation of what they might mean for them and their work. Kieran said that the "weirdness" of Fractured Signals helped create a space for people to reflect outside of their normal thinking.
The methods allowed for people to reflect both on a personal and organisational scale, which Kieran found created a richer level of reflection.