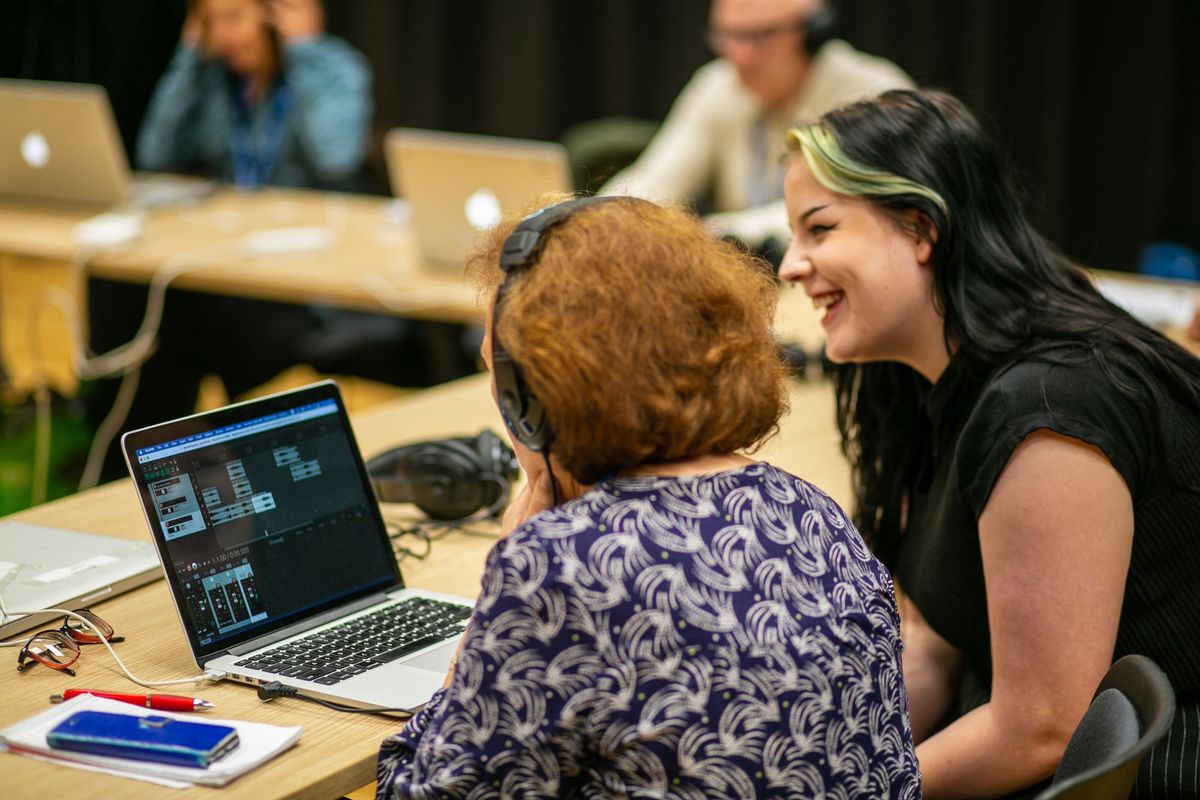 Even though older adults are widely recognised as listeners of radio, it's predominantly younger voices that dominate the airwaves and older adults are still not commonly perceived as active creators of content. However, the media landscape is changing and older adults increasingly make use of digital media technologies to have their voices heard.
As researchers, we can play a role in breaking down negative stereotypes around age and ageing. For Arlind, an Open Lab PhD student, and her community partners this meant taking action and creating a new radio network for older content creators - the Later Life Audio and Radio Co-operative (LLARC). Arlind Reuter was part of the Centre for Doctoral Training in Digital Civics at Newcastle University, funded by the Engineering and Physical Sciences Research Council (EPSRC).
The creation of LLARC was inspired by Arlind's research into the efforts of older adults creating community radio shows right across the UK.  
Supporting community radio production in later life using digital technologies
Arlind's participatory action research began in collaboration with  the Elders Council of Newcastle's  Older Voices project, a community radio show produced by and for older adults in the North East of England. Together they explored how to bestsupport their civic participation interests using digital technologies.
At the time, the Older Voices radio team faced different challenges: audience engagement, content persistence and process sustainability, which were identified together as part of a co-creation process.  
To address these challenges, Arlind worked with the team to support their audience engagement by using Facebook Live, adding a phone-in option to the Older Voices show and developing a non-intrusive and tailored digital production tool to edit and upload broadcasts, the "Radio Grabber".
This research was published in a paper at the A-core ranked fully peer-reviewed ACM CHI 2016 conference.
In addition to working with Older Voices, Arlind connected with other older people across the UK working in community radio - all sharing the same passion for broadcasting in later life. Other partners included community radio stations, representatives from the third sector and local authorities and academia.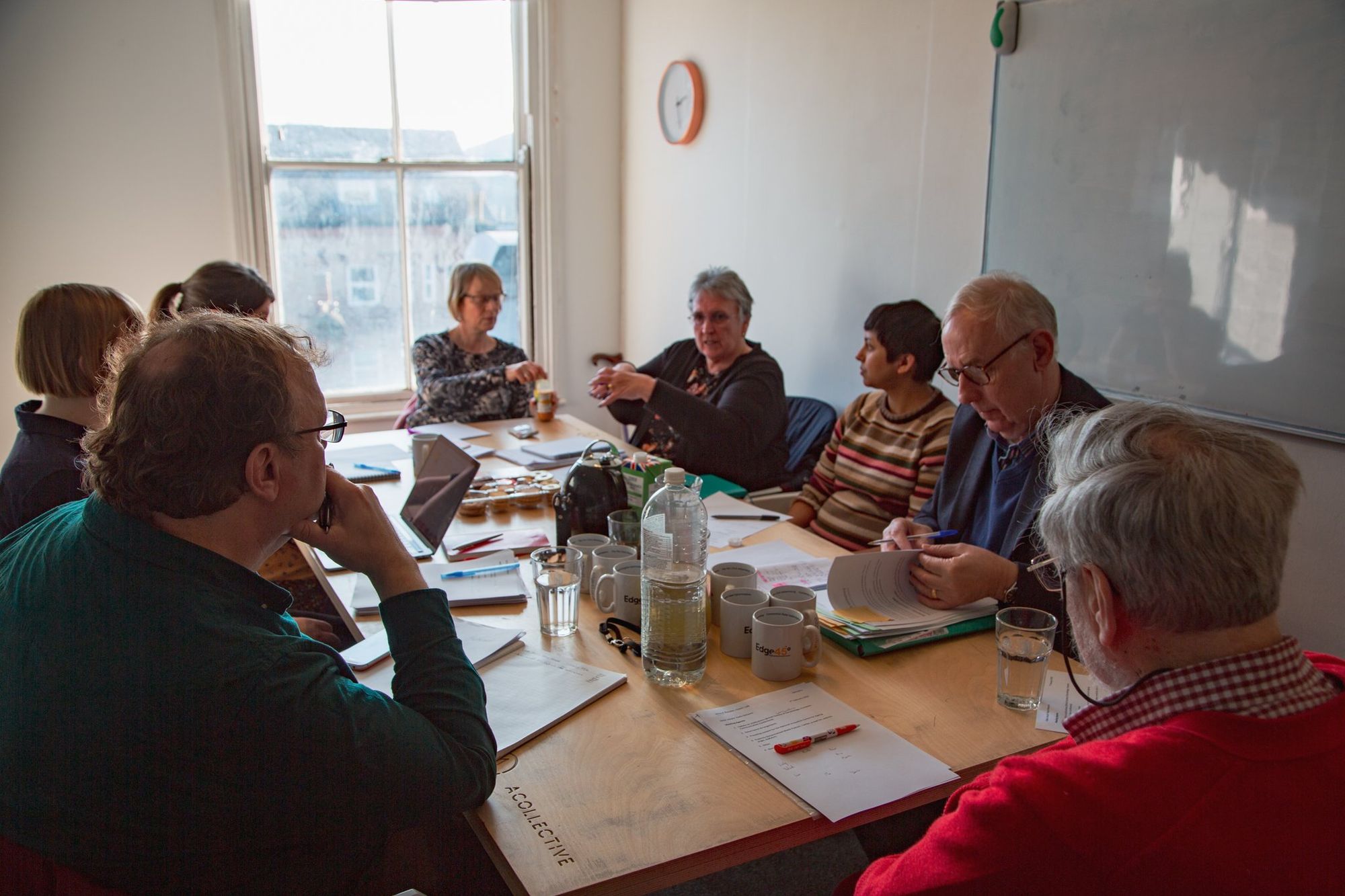 The Later Life Audio and Radio Co-operative
Bringing the different stakeholders together at a Radio Festival for older adults, the Later Life Audio and Radio Co-operative was established.  The radio festival, held over two days at Open Lab in October 2019, kickstarted the conversation about ageing and radio production, and provided an exciting new space to debate and innovate. Facilitated by LLARC member station Sonder Radio, the attendees of the radio festival took part in a live broadcast from the Urban Sciences Building, interviewing each other about topics such as jazz music, live theatre productions and the co-operative movement (which is not just carrots and coffins...).  
Over the next few months, Arlind worked closely with Open Lab's Digital Content Creator, Daniel Parry, to support the co-operative with shaping content by providing the members of the nascent network's the vital digital skills required to make audio content. Coming together as LLARC, the members engage with a variety of activities to champion the diversity of later life audio production. LLARC strives to put content produced by older adults in the limelight and celebrate radio as an innovative way for older adults to connect with their communities. The Later Life Audio and Radio Cooperative brings together different talk-based audio and radio shows created by older adults as playlists on Mixcloud. It's free to listen to and people of any age can tune in and enjoy the network's wide variety of content.
LLARC Highlights  
At the beginning of April 2020, LLARC ranked 30 in the Top 50 Global Interview charts on Mixcloud.
Arlind Reuter won the Stirling Prize for her interactive poster on the Later Life Audio Radio Co-operative at the British Gerontology Conference.
LLARC won Newcastle University's Engagement and Place award for Access and Participation (Inclusive Education)
Shortlisted for the Dynamite 100 award for Equality, Diversity and Inclusion
People have listened to more than 6,000 minutes of content from the Later Life Audio Radio Co-operative.  
Together, Arlind and Daniel established an online presence for LLARC, including a Twitter account, which quicky gained a dedicated online following of 300 followers in the first month,
LLARC joined co-operatives UK
LLARC's members include: Thomas Scharf, Older Voices, Sonder Radio,, , Change AGEnts, Elders Council of Newcastle upon Tyne, Newcastle City Council, Radio Tyneside, Gerry Foley.
Telling Tales of Engagement Funding – Engineering and Physical Sciences research council  
In April 2022, LLARC received the EPSRC's Telling Tales of Engagement grant. We received £10k funding to contribute to LLARC's engagement activities, such as running workshops for older adults to improve their audio editing skills, equipment, talks and events and technical support, such as a new website.  
Since then, we have been able to host a 5-day online workshop on podcast production, covering all aspects of podcast production from planning, contacting participants, structuring interviews, adding bed music, production/editing tips using Digital Audio Workstation Reaper, creating 'album art' using stock photos, publishing online and promotion. This workshop was facilitated by Sonder Radio, Manchester. Additionally, we hosted another one day in-person workshop on podcast production, focusing specifically on audio editing using reaper and conceptual aspects of content creation.