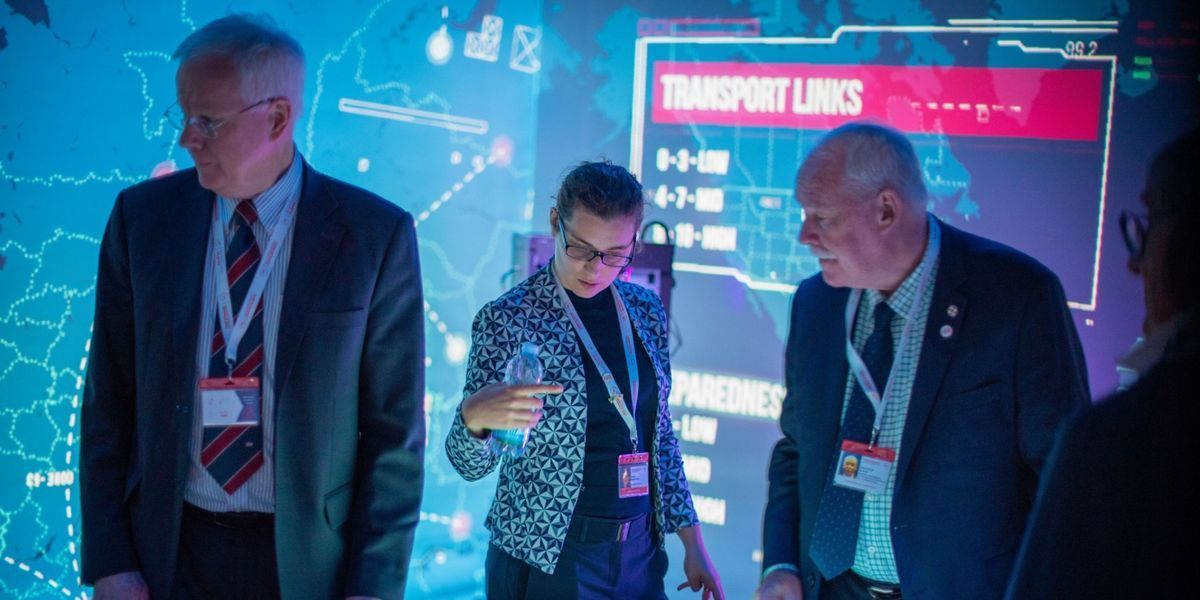 Open Lab worked with the International Red Cross and Red Crescent Societies to build the first ever immersive 360 humanitarian escape room experience based on their Strategy 2030.
Over 300 delegates from 60 National Societies took on the escape room at the International Red Cross General Assembly in Geneva.
Two PhD students – Daniel Lambton-Howard and James Hodge - from the Centre for Doctoral Training in Digital Civics at Newcastle University, funded by the Engineering and Physical Sciences Research Council (EPSRC), worked on the project alongside one of Open Lab's Research Associates - Tom Nappey - funded by the EPSRC Digital Economy Research Centre.
Unplatforming – WhatFutures
The work on the Strategy 2030 with the IFRC began with a project ran by Daniel Lambton-Howard. The IFRC were looking for ways to engage their youth volunteers into the planning for the Strategy 2030, as despite having a large youth volunteer base – many of them did not get involved with these types of processes.
Working with researchers in Open Lab, Daniel created WhatFutures, a real-time game event played entirely through WhatsApp. Taking inspiration from large scale Alternative Reality Games (ARGs), WhatFutures used an existing platform in a new way, which we call unplatforming.
Split into small teams, players were given creative challenges to produce media and newspaper headlines around potential challenges facing them in 2030. The pilot game produced large amounts of rich qualitative data in support of strategic change.
WhatFutures engaged over 4,000 volunteers, who shared over 80,000 messages, between 421 teams across 120 countries.
This research was published in a paper at the A-core ranked fully peer-reviewed ACM CHI 2016 conference (A ranked CORE conference).
Impressed by the work on WhatFutures – the IFRC asked Open Lab if they could come up with an interesting way to help them disseminate the messages from the Strategy 2030 at their General Assembly in Geneva. However, strategy documents are dry, difficult to understand and ultimately, for an organisation with 19 million volunteers, hard to disseminate.
The immersive escape experience
Open Lab used immersive 360 projected environments and game design to create an experience where people could live and internalise the strategy, not just read it.
Based around the five major challenges facing the IFRC over the next ten years from migration to climate change – delegates were shown an imagined future where the strategy hasn't been implemented, they were then asked to solve a series of puzzles and 're-write history' before it was too late.
The escape experience took around 30 minutes and was designed using five digital projectors to achieve full 360 projection, as well as a suite of stage lights to set ambience and immersion.
"We have maintained a long and successful partnership with Open Lab as we have been consistently able to come up with initiatives that challenged and benefitted us both equally," said Shaun Hazeldine, Head of Innovation and Foresight at the IFRC.  "We wanted something that would be fun, have an educational component but that most of all created a memorable experience for the delegates of the Strategy 2030."
After the General Assembly at least ten National Societies requested to have the escape room for their own big conferences or for help in building their own game. There is clearly an appetite for immersive game experiences that can offer an innovative way to engage both internal and external stakeholders into global humanitarian challenges and the work of the Red Cross and Red Crescent.
Highlights
Over 300 delegates from 60 National Societies took on the escape room from youth volunteers to senior representatives.
The immersive experience was nominated in the DigiLeaders 100 list for Cross-Sector Digital Collaboration of the Year and the Games for Change award in the Best XR for Change category.