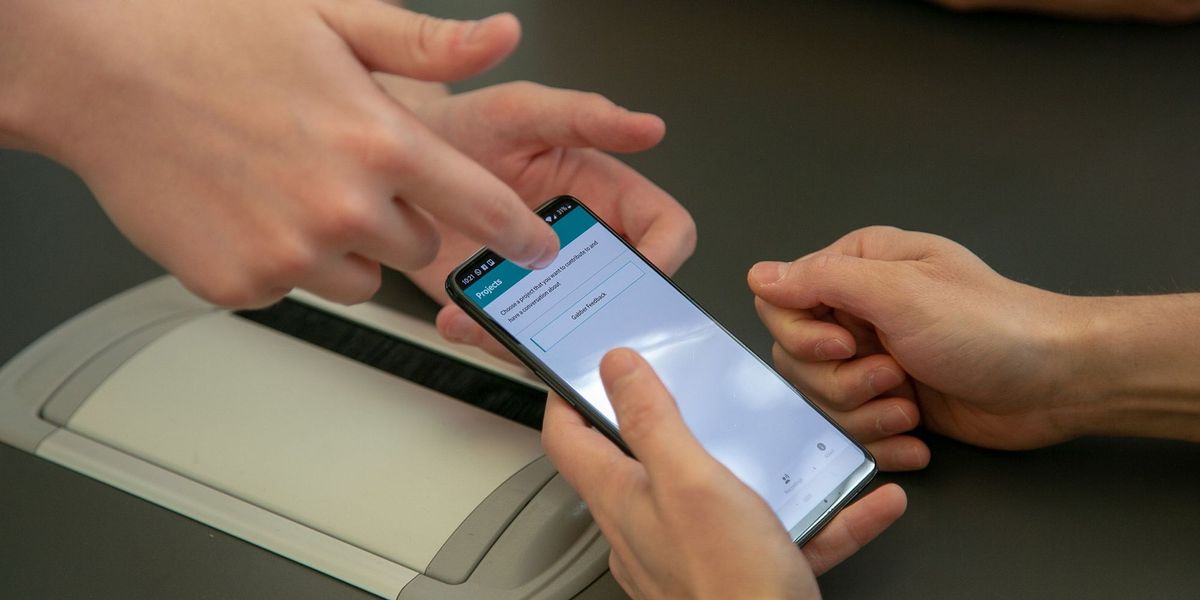 Listening to the experiences of staff or volunteers can be difficult for organisations as they have limited resources or skills to meaningfully engage with this rich content. People who share their experiences are seldom involved in the analysis of data they provide, which can leave them feeling that their voice is not reflected in the feedback process.
Gabber, an app first created by PhD student Jay Rainey in 2016 for his MRes dissertation, enables non-expert researchers to collaboratively record and analyse audio conversations, and share findings with their community. Jay is part of the Centre for Doctoral Training in Digital Civics at Newcastle University, funded by the Engineering and Physical Sciences Research Council (EPSRC).
Jay Rainey explained: "Gabber keeps the voice of stakeholders integral to the collection, understanding and dissemination of their feedback and experiences. By designing with this in mind and working with different communities, we were able to design a methodology that engages service-users in all aspects of the feedback: sharing, collecting, analysis and dissemination."  
The app lets people record conversations on topics of their choosing, then comment and analyse them together afterwards. People can then create playlists of relevant content, much like a Spotify playlist.  
Gabber has been used by several organisations across a number of research projects including the International Federation of Red Cross and Red Crescent Societies (IFRC), Disability North and the NHS to gather data about their organisation and to inform organisational change.
Gabber can be downloaded on the Apple store or Google Play.  
TalkFutures with the IFRC
TalkFutures was a project with the IFRC to feed into the process of creating their Strategy 2030. Their aim was to capture and share the voices of volunteers from across their organisation.  
TalkFutures was designed as a digital campaign around task-based roles, which included some people interviewing local volunteers and others analysing the recordings.
This project engaged over 600 volunteers across 82 countries, and gained the attention of the IFRC's regional office in the Americas, who then independently used TalkFutures to capture local experiences from their region to inform the structure of a regional humanitarian conference.
Disability North - creating training from real-lived experience
Disability North used Gabber through a co-research process with their service-users, where they followed a truly bottom-up process of configuring and using Gabber.
In the project run by PhD student Siobhan Macfarlane co-researchers determined what to capture conversations about, did co-analysis, curated media playlists, then the organisation used these playlists for training.
The organisation continues to use the Gabber platform. Disability North have secured funding to use Gabber within a further project, which Siobhan will also lead.