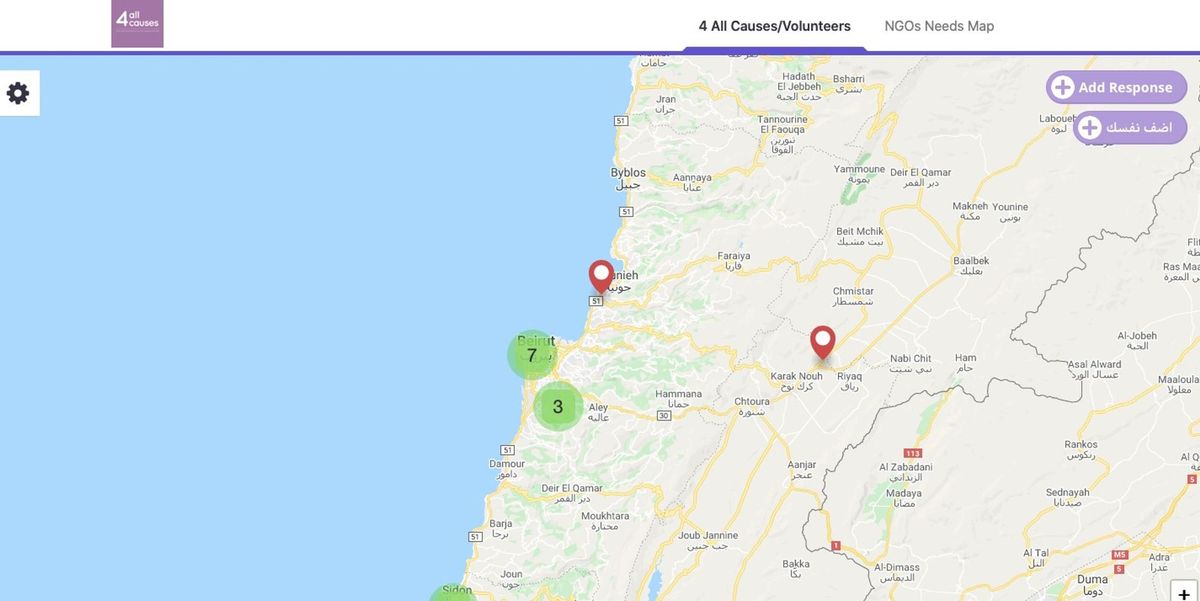 Health services in Lebanon are stretched due to political instability, conflicts, corruption and sectarianism, economic collapse and declining living conditions due to a weakened public sector. As COVID-19 hit and the Beirut explosion in 2020, these problems became even more exacerbated.
Sarah Armouch, as part of her PhD in the EPSRC Digital Civics CDT at Open Lab, collaborated with a small NGO 4 all Causes to connect volunteers with specific community needs in Lebanon.
Through a Participatory Action Research (PAR) approach and by conducting a series of participatory design workshops with multiple iterations, Sarah worked with 4 all Causes to adapt and tailor an off the shelf mapping platform, Make Place from Open Lab.
Originally the plan was to use mapping software to show health services in different areas including hospitals and health clinics, but as COVID-19 hit it became apparent that there was a need to connect volunteers with community needs. Many local people were taking on responsibilities such as bringing people food, and medication, and the NGO wanted a way to connect them with people in their communities.  
By using the website volunteers could input their profile and specify the services they can provide, and pin themselves on the map, and NGOs and community groups can specify the needs of the communities they work with and pin them on the map. Through WhatsApp, they were able to coordinate the process by establishing a network between volunteers and directing them to community needs.
The website became very useful after the Beirut explosion as it gave visibility to 4 all Causes and enabled them to connect with key stakeholders to support relief efforts on the ground.  
Sarah Armouch was an Individual Winner in the 2021 TechWomen100 awards for her work on this project.
This project was also shortlisted in the Global Category for the Engagement and Place Awards at Newcastle University, which recognise and celebrate great examples of collaboration between the University and their partners and the public.
Working between academic and non-profit sector
Often the non-profit sector suffers from a lack of technical resources and networking opportunities, therefore this project served as an inspiration for scaling out such projects and inciting more collaborations between academic institutions and the non-profit sector.
Sara, as a researcher on the ground, personally enrolled as a volunteer in the organization which enabled members of the organization to perceive her as an advisor and co-create with them through participatory design processes, which is something they haven't engaged with before.
Opening space for collaborations
In the long term, as the connection with the organization is still ongoing; other projects are being derived from this one.  
This includes using the map to link underprivileged families to health centers that are willing to provide health services at a subsidized cost which 4 all Causes can cover. It will also be used as an internal tool by the organization by creating a separate page where underprivileged families will be pinned on the map and linked to local cooperatives where they can shop by using vouchers that 4 all Causes will be providing them with.  
In addition, this map has opened the space for collaborations which are currently under progress between 4 all Causes and other stakeholders with similar interests and value systems to develop other projects that aim to support in reducing inequities in health and welfare.