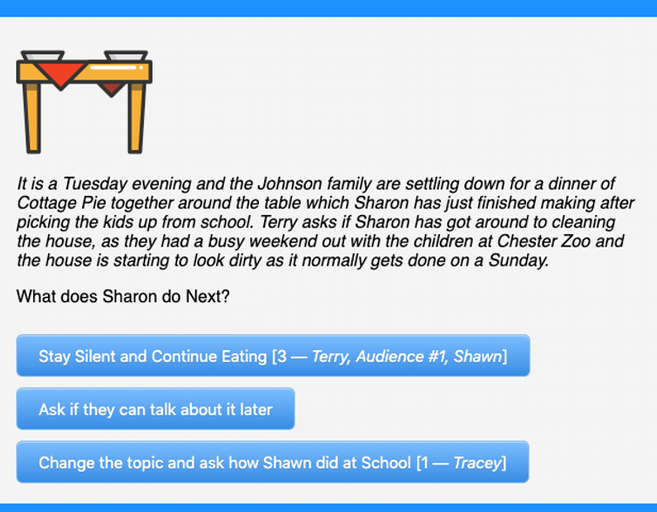 PhD student Rosie Bellini has been working closely with many national domestic violence charities to help support behaviour change for people who use abusive behaviours within their intimate relationships.
As part of her PhD in the EPSRC Digital Civics CDT at Open Lab, in the School of Computing at Newcastle University she has been doing work around technology and domestic abuse.  
She has not only had a significant impact on research in this area, but she has designed technology which has been used in programmes working to change the behaviour of perpetrators of domestic abuse.    
Domestic violence prevention programmes
Many organisations believe that more needs to be done to work with perpetrators of domestic violence. On 21 January 2020, several organisations including Barnardo's and the domestic abuse charity RESPECT, went to Parliament to present a National Perpetrator Strategy.  
Part of this includes using quality-assured domestic violence prevention programmes. Evaluations of the long-term impact of such programs have shown the positive results they can have, including a reduction in physical violence, sexual violence and stalking behaviours.    
Rosie worked with Barnardo's to design Choice-Point, an interactive story that allow perpetrators of domestic abuse to reflect on their behaviour in a controlled environment. Choice-Point provided a protective, nonjudgmental cover for the men to discuss their experiences of using violence.  
The impact of COVID-19
In March 2020, as the country went into lockdown – Rosie Bellini and her supervisor at Newcastle University wrote an article reaching over 50k views on 'Coronavirus lockdown is a dangerous time for victims of domestic abuse – here's what you need to know'.
During lockdown, she has been working with organisations to share research about good practice and safe standards around using video-conferencing in perpetrator prevention programmes, and she has been working with one to create a digital time out tool – to help people take a guided digital cool-down period during their sessions.    
Domestic violence and technology
As well as working with NGOs and organisations on domestic abuse prevention programmes, her research has also looked at the role technology can play in abusive relationships.  
Despite the rise of technology being used in abusive relationships, this field of study in Human Computer-Interaction remains small. In 2019, she went on a placement at Cornell University – to do research with others working in this area.
She published two papers with researchers from Cornell, one of which won Best Paper at the fully peer-reviewed CSCW conference in 2020 'So-called privacy breeds evil: Narrative Justifications for Intimate Partner Surveillance in Online Forums'.
These studies looked at the behavior of abusers who use surveillance to track their intimate partners and identified five online forums containing discussion of monitoring cellphones and other means of surveilling an intimate partner, including three within the context of investigating relationship infidelity.
These papers were featured in an article in Input magazine.